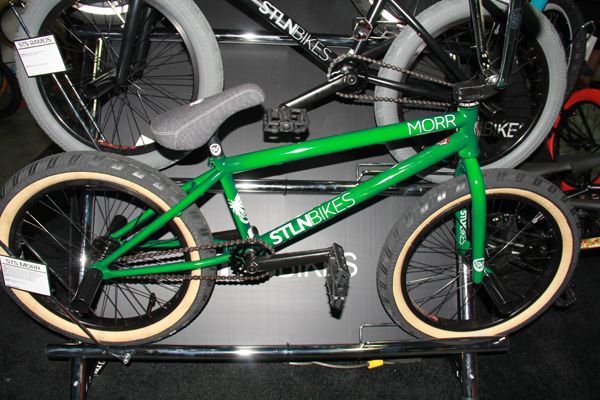 Next stop at Interbike was the Stolen Bike Co. booth to see what they had going on this year. We got a preview of their new stuff the other day in their 2015 Bikes and Parts catalog that landed online, but it was still good to get a closer look at everything. Let's take a peek at what they cooked up!
Alright! Let's keep this party moving on. Next stop was the Volume Bikes and Demolition booth to get some laughs from Brian Castillo and check out what's new with both of the brands. They had a bunch of new items cooked up from tires, stems, bars, forks to colorways and more. Let's get a closer look!
Next up is the Cult booth! We had a feeling there were a bunch of new product in the works and it turns out that was more than true. Check out the new complete bikes like the Dakota Roche signature complete above along with some new parts, shoes, shirts and more! Let's do this!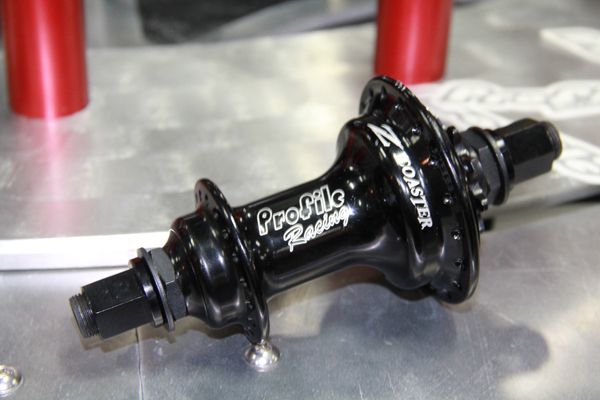 Next up on our list was the Profile Racing and Madera booth. This one was a stop I've been looking forward to because there had been some rumors about the Profile Freecoaster that I wanted to find out about. Turns out that the rumors were way wrong… Let's get a closer look at that hub!
Sunday Bikes dropped this brand new video giving you a look at Aaron Ross' dialed Orange Soda colored Motoross setup he's running! Check out the video, then get a closer look RIGHT HERE!
"Aaron Ross' new Orange Soda MotoRoss build is looking better than ever.
FRAME: Sunday MotoRoss
FORK: Odyssey R32
BARS: Odyssey Aaron Ross Double Space Bar
STEM: Odyssey Lincoln Stem
GRIPS: Odyssey Aaron Ross
BAR ENDS: Odyssey
HEADSET: Odyssey
SEAT: Odyssey Aaron Ross signature
SEAT POST: Odyssey Tripod
SEAT CLAMP: Sunday
CRANKS: Odyssey
SPROCKET: Odyssey Fang
CHAIN: Odyssey Bluebird
FRONT TIRE: Odyssey Aaron Ross Keyboard Tire, 2.35″
FRONT WHEEL: Odyssey A+ Wheel
REAR TIRE: Odyssey Aaron Ross Keyboard Tire 2.10″
REAR WHEEL: Odyssey Prototype Freecoaster laced to Odyssey Hazard Lite Rim
PEDALS: Odyssey Twisted
PEGS: G-Sport Plegs"
Cruising right along now! Heading towards the Tree Bicycle Co. area, I knew I wanted to get a closer look at that woodgrain colorway they gave a sneak peek look at a few weeks back. Turns out they have a handful of new items in the works, so let's take a closer look arleady!
Cruising through the Blackout Distribution booth, we spotted a few new items from Fiend so we figured we had to get a closer look! Let's take a peek!
Moving on, we hit up the Blackout Distribution booth to get a look at what the guys at Kink Bike Co. have cooking out in New York. As expected, they have a bunch of new product to get a look at, so let's get into this!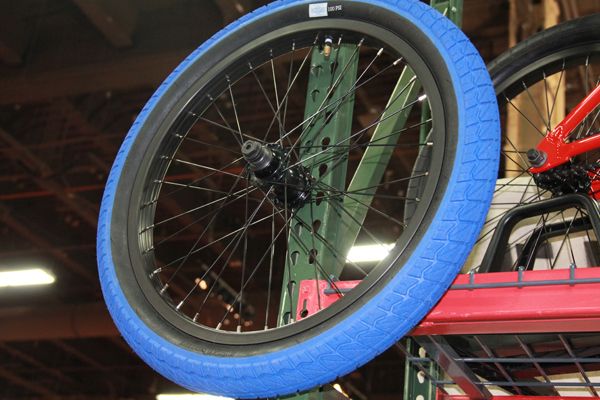 I always love making my way to the Odyssey and Sunday Bikes booth during Interbike because you never know what you're going to see. As always, they have a TON of new product cooked up and a few items I know a bunch of you have been keeping an eye out for. Let's take a closer look. There's a few surprises in this one.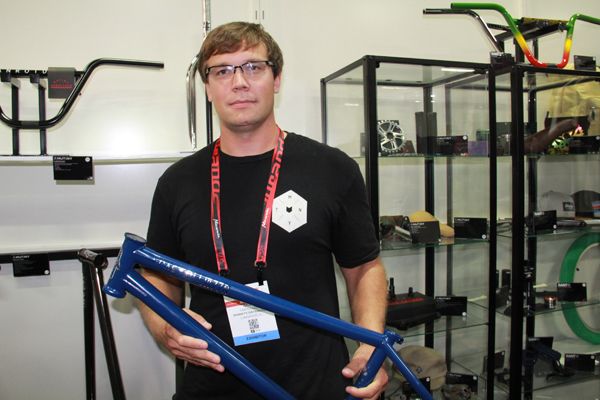 Next up, I went and heckled Gaz Sanders and Grant Castelluzzo by the Mutiny product! I'm real psyched on the approach Mutiny took this year, stepping back to refocus on their line to make it better, cleaner and overall more simplistic without putting stuff out just to put it out. After a little hiatus they have a revamped line including Grant's signature frame along with updates to all their other frames and parts. Let's take a look!