This is pretty rad. Cult have opened up a shop inside their warehouse! They're using the Cult Clubhouse name they've been running with since the brand launched and it looks like they will carry Cult, Lotek, Vans, Animal, Stranger and more. If you're in the Santa Ana area, cruise through! You can check out more photos of the shop right here, which looks awesome.
The days just keep on cruising by! It's Saturday again, and that means it's time to take a look at 5 dialed BMX goodies that will help keep your sessions going strong! This week we'll take a closer look at the BTR hub from The Shadow Conspiracy, the Stratos stem from Stolen Bikes, the Knox guard sprocket from Sunday, the Badge pivotal seat from Madera, then we'll wrap things up with Chase DeHart's signature Butter frame from Cult. Let's get into it!
Cody Sinkhorn, Intro and 1st mix
I don't know exactly when Movement's "The Link" came out, but I can tell you that it is all online now and it's an absolute MUST SEE! All of these sections kick a TON of ass and Derek Fetko did an amazing job with the filming and editing. Everything about this video is awesome. Just hit play and enjoy already! All the other sections are below!
In the past year or so, we've been seeing Jordan's name popping up more and more through different videos that surfaced online between The Daily Grind's edits to his parts in the Word videos. It seems like in the past few months, it's been more and more frequently and it's definitely a good thing because Jordan kills it on the streets! We caught wind that he just got on the flow team for Mankind and just built himself up a brand new setup! We figured there's no way we could pass up a fresh new bike and get a chance to find out a little bit more about this dude, so we caught up with him for a brand new bike check! Let's take a closer look at this street machine!
Name: Jordan Stump
Sunday Bikes posted up this brand new bike check with Jake Seeley and his fresh Army green Broadcaster setup that he just put together! Take a look at a ton of photos of the bike above, then get the full parts list below! You can get your hands on this frame come April, so start savin'!
Here's a little preview of the new Army Green Broadcaster frame that Sunday Bikes will be dropping in April! They will also have a translucent orange option as well, which you can get a look at below! If you're feeling this, have your local shop hit up Full Factory Distribution today to get yours pre-ordered!
More photos below…
Check It >>

Click to see it BIG!
All photos by Brett Rohlfing
Although we just caught up with Grant the other week, we heard that he built up a fresh new setup recently. So while Grant was down in Florida for the recent Profile Racing #EscapeParkTour, we had Brett Rohlfing catch up with the crew and get us a closer look at his new Mutiny Rune setup. This is one clean and dialed looking street machine that's for sure. Let's take a peek at just what Grant is running these days and get a little progress report on his signature frame that is in the works as well!
Name: Grant Castelluzzo
Check It >>
Well, another Frostbike has come and gone faster than the snow storm that hit us just before last week! It's always a treat to visit the QBP head quarters and see what the QBMX guys have cooking! We've got all our coverage posted up now and you can find each brands booth we were able to visit in the links below! Take a peek!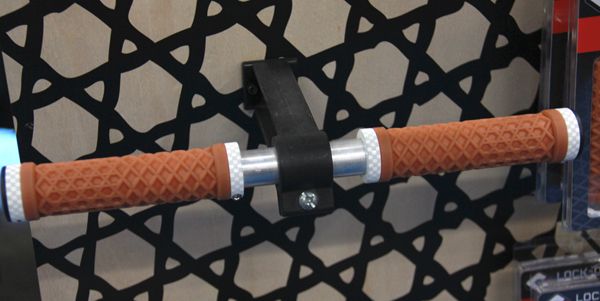 The final stop of the day at Frostbike for us was ODI Grips. During our quick visit, we were mesmerized by all the colors and different grip options they have. We even caught a glimpse at their latest collaboration… Let's take a peek!
Cruising right along! Since we were there on the final day, and thanks to the crazy roads, we were a little late to catch up with Stolen's, Dave Davenport, but we were able to snap a few quick photos before their booth got packed back up! Take a peek at what we were able to grab photos of!