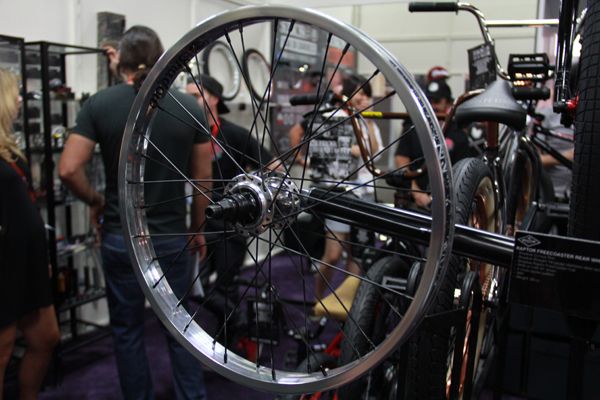 Here we go! It's that time of the year where we try our best to get around to every booth at Interbike. The first day is always tricky trying to figure out where everyone is, but it was pretty easy this year thanks to the crazy Sparky's booth paint job. So it makes sense to start out there! First up, we'll kick things off with The Shadow Conspiracy and all of their new product they have along with a few samples of things that may or may not happen! Let's do this!
To celebrate the release of Dakota Roche's Dak V2 frame from Cult, they released this brand new promo that is an absolute MUST SEE! Not only is the riding along with the filming and editing amazing, but that frame looks damn good too! After you watch the edit, check out the video below of Dak building up his new bike, then check out a ton of photos and a Q&A RIGHT HERE!
Music: xit "birth"
Music: xit "beginning"
Welp, it's that time again. I'm about to head to the airport to fly down to Las Vegas for the annual Interbike tradeshow. As always, you can expect a TON of photos to start flooding in as soon as we start hitting as many BMX booths (and suites since that's sounds like more brands are going that route) as possible. Updates may be a little slow for the rest of today, but expect to see what we've done the past 6 years as far as coverage goes starting Wednesday!
We've been waiting for a few days for this one to drop since we got the teaser and DAMN did it not disappoint. Tony Hamlin coming through HOT with some heavy clips to promote his signature Solace line from Kink! Watch the video then get a closer look at the line here…
Solace 2 frame
Solace 2 Seat
Solace Bars
2015 Solace Complete Bike
"Kink is proud to present Tony's new web video on behalf of his signature "Solace" line, available now. Filmed on location in Rochester, Tampa, Austin, and Albany.
Subscribe here! http://smarturl.it/SubToKinkBMX
Filmed and edited by Darryl Tocco
Additional filming by Dan Coller
Graphics by Dave Fortman"
Cult just dropped 4 new t-shirts that will be hitting shops and mail-orders worldwide soon! If you can't wait to get your hands on 'em, hit the Cult Webstore to pick them up NOW!
Check out the other 3 designs after the jump!
Check It >>
Despite the Freed Bikes team being beat up pretty bad, River Waldren and Brad Moore were able to save the trip up to the Northwest with some heavy clips! Hit that play button and take this video in because damn is it good!
"Between Tom not able to make the trip, Corey still out from his broken femur and Andy getting hurt early in the trip, filming came down to Big Riv and Brad. With just over a week on the Oregon coast, this is what went down. Filmed and edited by Doeby Huynh with additional filming by Brad Moore and Corey Foster."
Hell yeah! Cult uploaded Steven Mack's section from the "Small Talk" DVD that's filled with smooth style loaded with goodness! There's even a little Jayson Johnson mixed in for good measure as well! Check it!
Twas the weekend before Interbike and every bike company was scurrying… Yeah, it's that time of the year again for the annual voyage on down to hell Las Vegas for Interbike to get a look at all the latest products from all the companies from around the world. But we still have a few days before we actually head down that way, so let's keep our Saturday tradition going strong with a fresh round of Products:! This week we've got the Devon Smillie signature Devon grips from Fly Bikes, the Eon pegs from The Daily Grind, the new Polished colorway from Madera, the Freedom bars from Freed Bikes and then we'll wrap it up with the Magnum (see what I did there) Bash sprocket from Subrosa! Ready? Let's do this!
Here's a look at Sunday's latest print ad featuring Erik Elstran and his Signature 2015 EX Complete Bike! Damn does that bike look good or what!?
Here's one I'm sure a ton of you have been waiting for! Cult have begun uploading sections from the "Small Talk" DVD for you guys to enjoy! Up top is the intro and down below is Iz Pulido's section that's jam packed with style out on the streets. Take a peek!
""The classification between amateur and professional in BMX has been discussed and debated, but never clearly defined. While the lines are still a little blurry, if we can agree that a professional includes a paycheck and a certain level of experience and skill, then we're halfway there. So what is an am? Does BMX even need ams? Cult thinks so, and they helped set the precedent for an established am class in BMX with the release of Small Talk, their am-based video that gave Steven Mack, Josh Alderete, Iz Pulido, and Andrew Castaneda the center stage usually reserved for the pro riders." – Cult
"Iz's riding can sometimes surprise you. I've know him for years, but even on this project some of the spots and tricks he'd call out were out of nowhere and made for an interesting video clip. He also stepped up and helped plan trips and would grab the camera to shoot awesome photos that you've probably seen on the Cult site."